Sunday morning, August 30th 2020, CloudFlare faced another outage. As per their twitter handle, they claimed that this was due to the 3rd party transit provider incident. As per them, this was due to an IP outage by ISP CenturyLink. This was noted across many portals. Many customers reported the same and twitter was flooded with such complains.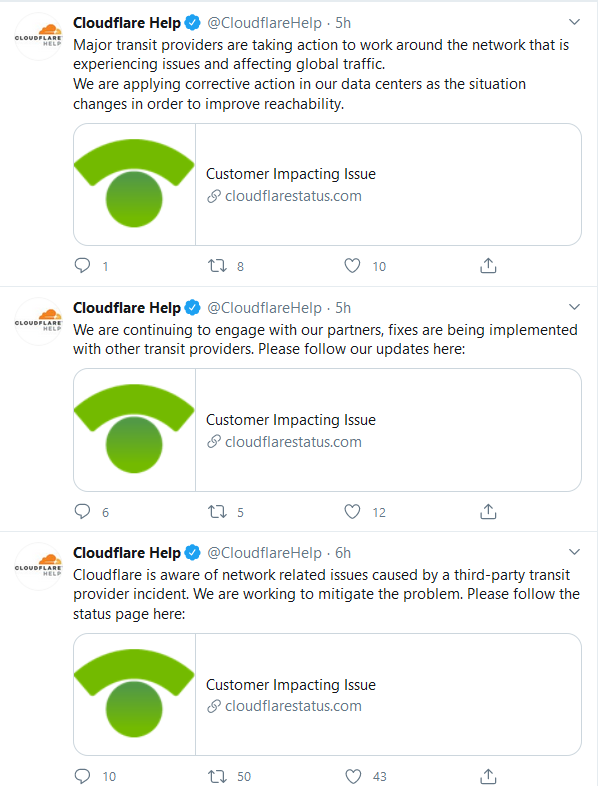 At almost the same time, CenturyLink also post outage in their network
At 11:15AM ET, CenturyLink tweeted that all issues were fixed.
The outage began on Sunday morning and as per the CloudFlare status page, they were observing "an increased level of HTTP 5xx errors". Later they updated that the issue has been identified.
As per the reports, Sunday's outage impacted part of West Europe. Many sites, like Discord, Hulu, Xbox, Feedly were impacted. Was your site was impacted too? Let us know in the comment section.
Many major websites across the works use CloudFlare to distribute their content. CloudFlare CDN has capability to deliver web and media files across globe in faster and reliable way. CloudFlare also provide protection from DDOS and Web attacks. Such CloudFlare outages may the life of publishers very difficult as they tryst CloudFlare to not go down and serve their content in a seamless fashion.
Previously, on July 17th, similar outage was observed. The CloudFlare blamed a Typo for that outage where almost 50% of the CloudFlare CDN network was unreachable.
Looks like the Transit outages may continue to create problems for CloudFlare until they find find a way to overcome this issue in a better way.
Update: The overall impact of the CenturyLink outage caused almost 4 hrs+ to some of the customers
The Auto mitigations kicked in and within 8 minutes of the Outage, the system was restored for 25% of the customers and 48 cities were connected using alternate links.